Progenitor of a Respected Calumet Co. WI Family of Farmers
Frederick was born in Pomerania, a northern territory just east of Mecklenburg, both of which border the Baltic Sea. Pomerania had become a part of the larger state of Prussia in 1815, and just 3 years after Frederick left Pomerania became part of the 1871 unification of Germany.
Frederick came to America in 1968 aboard the ship 'Jenny', out of Bremen, which arrived in New York in 5 Jun. He is described on the passenger list as Prussian, a farmer, age 23 years 10 mos [i.e. b. Aug 1824], with his destination being Wisconsin. While his obituary indicates that older brother Carl accompanied him, there is no record of this. Instead, brother Carl is noted in passenger ship records as arriving in New York with the rest of the family the following year (on 31 May 1869) on the ship 'Main', also out of Bremen (the passenger list shown on his father Fredrich's webpage).
Frederick married Dorothea Harbrecht 1 Nov., 1871 in Rhine, Manitowoc Co., WI. Dorothea's family had earlier emigrated to Manitowoc Co. from Mecklenburg-Schwerin, an area of the larger territory of Mecklenburg, both of which bordered the Baltic Sea and became part of the 1871 unification of Germany.
Frederick and Dorothea had several farms in Calumet Co., WI during their life together, first in Rantoul, then in North Chilton, and finally in Chilton itself. Each of their children benefited from this, since by the time Frederick passed away each of his sons and sons-in-law had successful farms of their own. Son William Frederick inherited the Chilton farm, son Frederick William had acquired 'Pagel Acres' in Brillion (where Frederick passed his last years), August had acquired a farm in Chilton, son-in-law Fred Harder ran a successful farm in North Chilton, and the original North Chilton farm had been sold to a relative of son-in-law Anton Fochs. As grandson and family historian Larry Pagel proudly observed, Frederick left all of his children financially secure, with each of them possessing a successful farm and being a respected Calumet Co., Wisconsin citizen.
His 1925 obituary nicely summarizes Frederick's origins and life:
FRED A. PAGEL
Last Saturday occurred the funeral of Fred A. Pagel from the Reformed Church at Potter, Rev. H. G. Schmid officiating, with interment in the Breed Cemetery at Chilton. The pall bearers were Wm. and Fred Pagel, Clarence Pagel, Leonhard, Reinhard and Gerhard Harder.
The deceased was born on August 7, 1843 at Franzen in Pommerania, where he grew up to manhood. From May 1864 to July 1867 he served in the German Army, taking active part in the campaign of 1866 against Austria, which culminated in the renowned battle at Koeniggraetz.
In 1868 he came to America in company with his brother, Carl, and found work on a farm near New Holstein. On November 21, 1871 he was united in marriage to Dorothea Harbrecht of Schleswig, and they settled on a farm in the town of Rantoul. After disposing of it in 1882 they moved on a farm in North Chilton Town, which remained their home until 1911, when the aged couple took up their residence in the city of Chilton.
The deceased spent the last year at the home of his son, Fred, in Brillion, where he was tenderly cared for. He passed away on Tuesday, October 20th, suffering from the infirmities of old age. He attained the age of 82 years, 2 months and 13 days.
The deceased was one of the grand old men of Calumet county, having spent the greater part of his life within the bounds of the county and doing his share to help make the county what it is today.
He is survived by two sons and two daughters : Wm. F. Pagel of Chilton, Fred Pagel of Brillion, Mrs. Anton Fochs [Martha], Evanston, Ill., and Mrs. Fred Harder [Mary] of north Chilton Town, twenty grandchildren and two great grandchildren, also 3 brothers: John Pagel of Charlestown; Robert Pagel, Kiel; Albert Pagel, Sheboygan; and one sister, Mrs. Wm. Fuhrmann of Hilbert. [Not mentioned are his son August of Chilton (who had died in the 1920 Flu epidemic), older brother Carl of Woodville and younger brother William of Brillion, who both d. earlier.]
Source: Hilbert Favorite; October 29, 1925; Page 9, Column 4.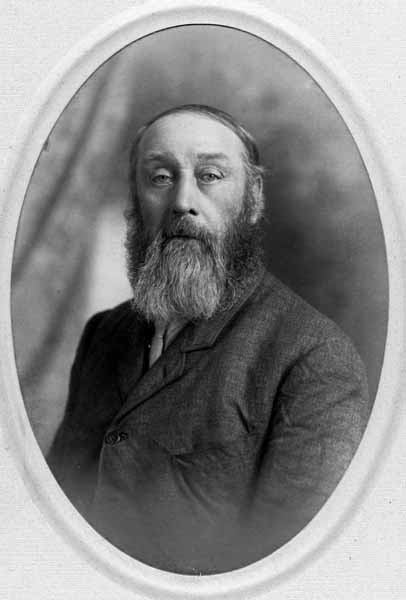 Frederick Pagel about 1914
A portrait of Frederick and Dorothea PAGEL and their five children is found on their family page.
Information on Frederick's wife, Dorothea Harbrecht, is found HERE.
Frederick PAGEL and his wife are buried in the family plot in Hillside Cemetery (also known as Breeds Cemetery) in Chilton, Calumet Co., WI. The family homestead is located directly across the road from the cemetery, with the home and barn still is use as of August, 2008.
REFERENCES :

1. New York Passenger Lists, 1820-1957 as found on website ancestyry.com; Provo, UT, USA: The Generations Network, Inc., 2006. The original data noted to be from Passenger Lists of Vessels Arriving at New York, New York, 1820-1897; (National Archives Microfilm Publication M237, 675 rolls); Records of the U.S. Customs Service, Record Group 36; National Archives, Washington, D.C.